Tangerine Dream performed two concerts in East Berlin at the Palast der Republik on this day in 1980.
These concerts are particularly historically significant for a few reasons. For Tangerine Dream themselves, these were the first concerts performed with the lineup of Edgar Froese, Christopher Franke, and Johannes Schmoelling. Newest member Schmoelling had only been in the band for a handful of weeks when these concerts took place; they served as his official debut. Schmoelling would remain with the band for five years, during which the band composed such well-known works as Tangram, the soundtrack to Risky Business, White Eagle, and Hyperborea.
Secondly, these were apparently the first appearance of a Western rock band, as loosely as that term may be applied to Tangerine Dream, in East Berlin. It was an incredible responsibility, then, that the band had to live up to. They had to be very careful in their presentation, as Edgar Froese recalled after the fact:
[W]e had to agree not to make any political statements and just play music — nothing that would collide with the political system. Since it was the first concert of a Western band in East Berlin and in such a high profile place, all the international press were outside with cameras everywhere, because 80% of the tickets were given away to officials and organisations connected with the East German government. The remaining 20% sold out in about five minutes.

Edgar Froese in an interview with Jonathan Miller. Retrieved from here.
The group tried to avoid political statements, but still managed to have a potentially tense moment before the concerts even began:
About half an hour prior to the show there was a very delicate moment because 900 people were pressing against the venue's huge glass windows trying to get in. Inside, we had to make a decision: Did we want lots of publicity by allowing the windows to be damaged — maybe people would be hurt or worse — and blowing the gig? A public relations company would say we were stupid, but from my perspective of performing our music, it was very simple: I told the officials we would not perform unless they let those people in for free, thus preventing any trouble. They did and that was the first time I found out exactly what political journalism was all about: Writing something sensational and extraordinary brings success, but at what expense? On the other hand, we had a wonderful concert. As far as the music was concerned it was just great, but for political international journalism it was a total disappointment. The entire gig just got one small mention in a daily newspaper the next day — no-one was really interested. If we were to do it again today, I would make exactly the same decision

Edgar Froese in an interview with Jonathan Miller. Retrieved from here.
Obviously, expectations for the group were incredibly high!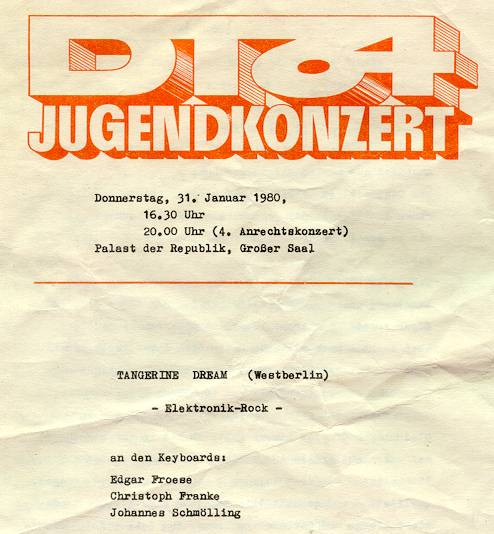 Tangerine Dream must be counted among the most important ensembles of contemporary popular music; they are more keen to experiment than any other comparable band. TD has set standards (both in quality and quantity) in their effort to meet musical and technical possibilities. They produce tonal sound and noise syntheses, partially basing on a preset musical theme, but mostly they use the instrument of improvisation.
The ambitious realization will guarantee some optical as well as acoustical surprises for the audience.

From the tour program; translated from the original German. Retrieved from here.
The band was, at the time, beginning to move away from the free improvisation that had dominated the Baumann era of live performance. However, the music still flowed together quite elegantly. Hints of the upcoming album Tangram were littered throughout, while the improv built into an incredible climax for the concert.
Edgar Froese stated that the gig was an excellent one. Recordings exist of parts of both concerts; one album, Pergamon, took the best-of from both concerts.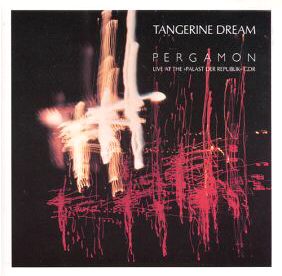 Conflicting information exists as to whether the concert on The Official Bootleg Series, Volume 2 is the same one as the one offered on Tangerine Tree Volume 17: East Berlin 1980.
The Palast der Republik, where the group performed, was the seat of East Germany's government, increasing the honor of their being allowed to perform in East Berlin even more.
The building stood where Berlin's Imperial Palace had before its demolition by the Communist government in 1950, and served as the government head between 1976 and 1990. It was in turn demolished starting in 2006 (source).
Thank you so much for reading. If you enjoyed this post, please consider donating on my ko-fi page or becoming a patron on my patreon. I appreciate your help!