Emerson, Lake & Palmer performed on this day in 1977 at the Civic Center in Providence, Rhode Island.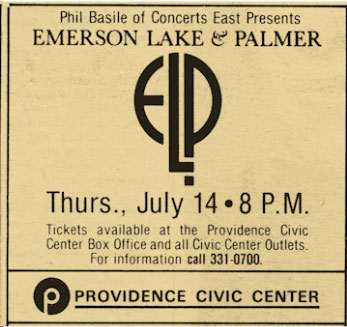 ELP were at this time on their Works Tour. The Works Tour was the first tour the group had undertaken since their Get Me A Ladder Tour four years earlier which was concentrated on a single continent. This was also the first tour to focus solely on North America; every other tour they had ever undertaken had either included dates in or had entirely taken place in Europe.
At this point in the tour, the setlist still focused on Works Volume 1. Based on extant recordings from this time, it appears that selections from Works, Volume 2 had not yet been added to the setlist. These would begin appearing late in August at the time of the recording of Works Live. Setlists from this time also included numbers from all other ELP albums, including the title track of Tarkus and an abridged take on "Pictures at an Exhibition".
This concert is known to have been recorded, and is in circulation online.
The group performed at the Providence Civic Center, where they would later be the site of the final date of the Works Tour in March of 1978. Built in 1971, it originally opened on November 3, 1972 with a hockey game.
Early in the center's time as a concert venue, local corruption was rampant around the issue of different acts. Ironically, one of the first acts was Pink Floyd, who reportedly played their song "Money", a song warning of the emptiness of cash. Other acts which have reportedly patronized the site over the years can be found here. At the time, the center apparently seated 12,000.
In 2008, the site was refurbished and got a capacity boost to 14,000. It reopened as the Dunkin Donuts Center, the name it operates under to this day. Its site can be found here.
Thank you so much for reading. If you enjoyed this post, please consider donating on my ko-fi page or becoming a patron on my patreon! I'm currently raising funds in order to upgrade my wordpress plan to a premium one, which would allow me to improve my readers' experience in large ways and small. Thank you for your help!
Venue Sources