Emerson, Lake & Palmer performed on this day in 1977 at the Broome County Veteran's Memorial Arena in Binghamton, New York.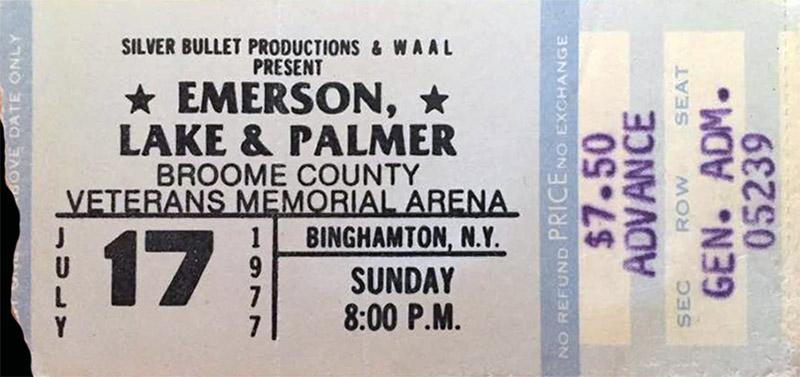 ELP were at this time on their Works Tour, which had begun in late May. While it had started with the band teaming up with an orchestra, the group had by now been playing regularly as a three-piece for about a month barring three legendary dates at Madison Square Garden about a week prior to this date. Sadly, ELP had been forced to jettison the orchestra due to financial issues, leaving them unable to finish the most ambitious tour they had yet attempted in the way it had originally been conceived. The group would reunite with their orchestra one last time at the Olympic Stadium in Montreal to create another legendary concert.
At this point in the tour, extant setlists still show that the tour was focused on their most recently released album, Works, Volume 1. Later in the tour, they would start phasing in numbers from Works, Volume 2, predating its November 1 release.
There is no known recording of this particular concert.
Thank you so much for reading. If you enjoyed this post, please consider donating on my ko-fi page or becoming a patron on my patreon! I'm currently raising funds in order to upgrade my wordpress plan to a premium one, which would allow me to improve my readers' experience in large ways and small. Thank you for your help!