Emerson, Lake & Palmer performed on this day in Richfield Coliseum in Ohio.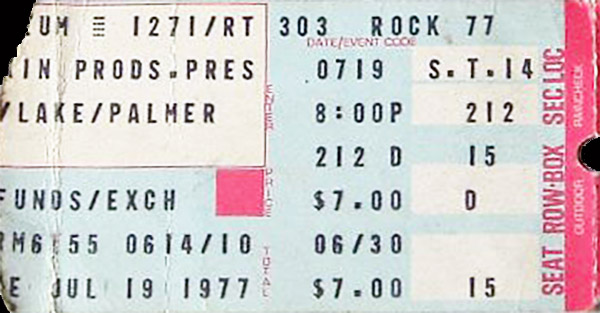 ELP were at this time early in their Works Tour, which was one of their longest and most diverse tours overall. While they had begun with an orchestra, they had since been forced to split up with it after financial difficulties overtook them.
The Works Tour is also ELP's only tour to support two separate albums. At this point, only the first, Works, Volume 1 had been released. The second, Works, Volume 2 would show up in November, late in the first leg of the tour. No numbers from Works 2 had yet appeared on the setlist at the time of this concert.
This concert is known to have been recorded, and is in circulation online.
This appearance at Richfield Coliseum by the band was the first of only two, both during the works tour. Spinoff band Emerson, Lake & Powell would also come to Richfield during its sole US tour. The arena had been opened just after ELP got off the touring circuit in 1974. I talk more about the venue here.
Thank you so much for reading. If you enjoyed this post, please consider donating on my ko-fi page or becoming a patron on my patreon! I'm currently raising funds in order to upgrade my wordpress plan to a premium one, which would allow me to improve my readers' experience in large ways and small. Thank you for your help!