Rainbow performed on this day in 1981 at the Cornwall Coliseum in St. Austell, England.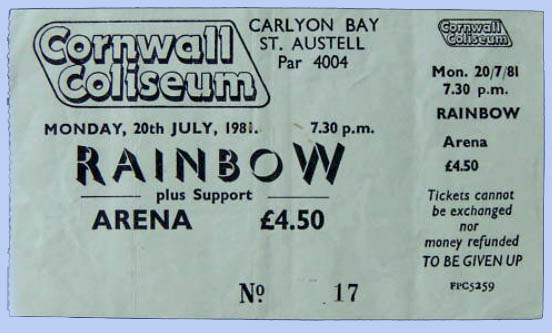 Rainbow were at this time on their Difficult to Cure Tour, undertaken to support the album of the same name. Although the band wouldn't finish with their tour until September, there were only fourteen dates left on the tour; after the end of the European leg of the tour (the third overall after two US tour legs), the group went on break until near the end of August. At that point, they toured Japan and finished off with one date in Hawaii, bringing an end to the tour.
In the UK, the band was supported by Rose Tattoo. Rose Tattoo are an Australian hard rock band which had been founded in 1976, just a year after Rainbow. As of this writing, they are still active!
The UK dates of the tour were remarkably well-documented. Of the sixteen dates in the UK from this tour, twelve were recorded, with one even getting a video recording. This concert is one of those which was recorded, and is in circulation online.
Thank you so much for reading. If you enjoyed this post, please consider donating on my ko-fi page or becoming a patron on my patreon! I'm currently raising funds in order to upgrade my wordpress plan to a premium one, which would allow me to improve my readers' experience in large ways and small. Thank you for your help!
Post Sources