Emerson, Lake & Palmer supposedly performed on this day in 1977 at the Onondaga County War Memorial in Syracuse, New York.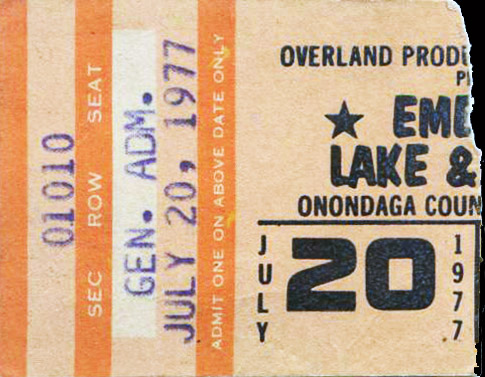 ELP were at this time on their Works Tour, a tour which throughout its course would be plagued by difficulties. One of the first concerts on the tour was delayed due to issues with the stage set. Other postponements or outright cancellations put the band behind financially, forcing them to part ways with the orchestra which they had planned to take on the full tour. Four one-off dates with the orchestra in July and August, three at Madison Square Garden and one at the Olympic Stadium in Montrea, would be all that remained of this original arrangement of the Works Tour.
Meanwhile, the band's 1978 dates were similarly difficult, as they had stormy winter weather to contend with. This forced a similar set of cancellations or postponements, thankfully with lower financial penalties after the orchestra had been let go. Meanwhile, some of their dates in places such as Texas saw crushingly low attendance. Despite the rocky circumstances, memories from fans who saw these dates spoke warmly of them, and the last four concerts with the orchestra were some of the most legendary of ELP's career.
According to one site I saw, this date is not at all correct, but I have been unable to verify that independently. From a geographic perspective, it's possible, but would have provided a long day of travel for ELP and their retinue.
There is no known recording of this particular concert, something which, should it surface, inevitably would clear up the question of whether a concert actually happened!
Thank you so much for reading. If you enjoyed this post, please consider donating on my ko-fi page or becoming a patron on my patreon! I'm currently raising funds in order to upgrade my wordpress plan to a premium one, which would allow me to improve my readers' experience in large ways and small. Thank you for your help!
Post Sources