Emerson, Lake & Palmer performed on this day in 1977 at Cobo Hall in Detroit, Michigan.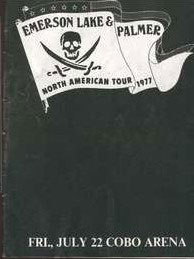 ELP were at this time on their Works Tour, taking them through the United States. Whether or not anything else was planned in Europe, the Works Tour ended up being the third of ELP's tours to only take place on a single continent, namely North America. The prior two single-continent tours, the band's debut tour and the Get Me A Ladder Tour, had taken place entirely in Europe.
This concert is known to have been recorded, and is in circulation online.