Rainbow performed on this day in 1981 at Newcastle City Hall in Newcastle, England.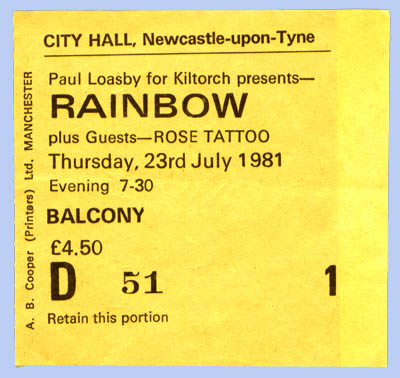 Rainbow were at this time on their Difficult to Cure Tour, touring in support of the album of the same name. July was the sixth month in which the group had at least some dates, having been on the road since February.
The Newcastle date got a positive review from the only source I could find on the subject, with praise distributed among all members. Even Joe Lynn Turner, who had gotten occasional pushback from fans during the tour, was praised as a good frontman. Also given positive response was the backing band, Rose Tattoo.
This date at Newcastle is also interesting for other historical reasons, namely that it was reportedly the first time backing vocalists were added to the title track of "Difficult to Cure". These two vocalists were a pair of women, Dee Beale and Lin Robinson. Their inclusion was, apparently, guitarist Ritchie Blackmore's idea. Turner would later call the two singers "terrific". Not everyone approved, however; the main opposition to this idea came from within the group from keyboardist Don Airey. He disliked the sound and even called the performance with the two "a disaster".
Airey had a history of clashing with Blackmore on occasion; the two even came to blows early in Airey's tenure with the band on an unrelated subject. Airey would be out of the band for good in just over a month's time, never to work with the group again. Blackmore, meanwhile, would continue to use female vocalists for the song intermittently throughout the years, including his romantic partner Candice Night; he infamously had her sing to the song while remaining offstage during his final tour with Deep Purple in 1993. Airey would also perform "Difficult to Cure" with his own band later, completely devoid of vocalists.
There is no known recording of this particular concert.
I talk more about the venue in question, the Newcastle City Hall, here.
Thank you so much for reading. If you enjoyed this post, please consider donating on my ko-fi page or becoming a patron on my patreon. I appreciate your help!
Post Sources
Bloom, Jerry. Black Knight: Ritchie Blackmore.
Edit on 2020-09-05: Added citation on Airey's dissatisfaction with the vocalists. Optimized for new site.