Rainbow performed on this day in 1981 at the Hammersmith Odeon in London, England.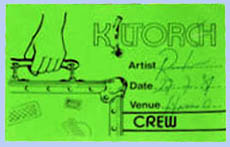 This was the final English date of Rainbow's Difficult to Cure Tour. With this date, Rainbow brought their time in Europe to an end. The next time they returned to Europe, it was in the autumn of 1982 with a different keyboardist. The group returned to England even later; they would not be back until September 1983.
As a point of supreme irony, the member who quit the band at the end of the tour, bringing an end to this lineup of Rainbow, was the first to return to England's green and pleasant land for a gig. Keyboardist Don Airey showed up in the United Kingdom in August 1982 performing with Gary Moore on the Corridors of Power Tour. For the tour, he traded Deep Purple alumni Ritchie Blackmore and Roger Glover with alumnus Ian Paice.
This concert is known to have been recorded, and is in circulation online.
Thank you so much for reading. If you enjoyed this post, please consider donating on my ko-fi page or becoming a patron on my patreon. I appreciate your help!