The guitarist Steve Morse was born on this day in 1954.
Born in Hamilton, Ohio and transplanted to Augusta, Georgia at a young age, Morse first picked up the guitar at twelve. He would later attend the University of Miami for music as a member of the jazz program. There, he would join forces both with some former Atlanta bandmates who'd made the same move and with fellow students to create the Dixie Dregs, a band which defies any sort of categorization. Throughout its life, Morse has been the primary composer of their music, bringing in elements which could be classified as anything from classical to bluegrass, from jazz to straight-up rock.
Morse found time to have a proper solo career fronting the Steve Morse Band after the Dregs disbanded in 1983. In this capacity he once opened for the band Rush, where he earned guitarist Alex Lifeson's respect for his musicianship. Lifeson is not the only one to feel this way; Morse was voted "best overall guitar player" five consecutive times by the readers of Guitar Player Magazine, winning the accolade so often that he was retired from the poll and put in a list of "Guitar Greats" so that someone else would get a chance.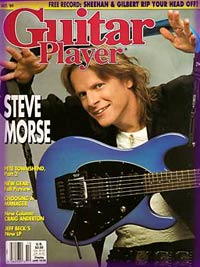 The next stop on his career was with the band Kansas in the later 80s. Disillusionment with the music industry caused him to take a short hiatus and work as a commercial airline pilot, but he soon heeded the siren song of music and went back to being a professional musician.
In 1994, perhaps the most unexpected career move he had yet been offered was placed before him when he was invited to join the band Deep Purple when the position of guitarist opened up. Despite his relative unfamiliarity with the group, Morse committed to a short trial run. His first date with the group was in November of that year. It went spectacularly well, and by the end of the band's first jam before even taking the stage together, Morse claims they were already getting along great within the music and otherwise.
The Steve Morse Era of Deep Purple, a full half of their overall existence, has seen constant touring and the release of seven albums: Purpendicular, Abandon, Bananas, Rapture of the Deep, Now What?!, Infinite, and Whoosh!
Any normal person would be kept extremely busy by these projects. Of course, in addition to these, Morse is also part of the prog rock supergroup Flying Colors, who have to date released three studio albums. He also contributed to the project Living Loud, and was one half of the act Angelfire with singer Sarah Spencer.
A Personal Postcript
On a personal note, Steve Morse is my favorite guitarist, and easily one of my favorite musicians of all time. I have not made this much of a secret on this blog, having written a few pieces about his work either on specific songs (see: "Fools") or viewed overall. There is something about his guitar tone that can only be described as sublime. I could go on and on with ridiculous, overblown metaphors about how I feel and what I picture when listening to him at work, but the bottom line is that his music just does something for me.
There is something deeply personal about this admiration as well. I spent a lot of time in my adolescent years at the University of Miami music school in lessons and ensembles after school and on weekends. Many of those memories were left tainted by events that happened after the fact; to put it lightly, that was a real drag.
I have something new to associate with that place now: the music of Steve Morse. That positive association has allowed me to look back at the time I spent there in a better light. It's not an exaggeration to say that it has helped me reclaim a part of myself. So today, I want to wish Mr. Steve Morse a very happy birthday, and thank him from the bottom of my heart.
Thank you so much for reading. If you enjoyed this post, please consider donating on my ko-fi page or becoming a patron on my patreon. I appreciate your help!
Post Sources
Edit on 2020-10-07: Corrected 'Atlanta' to 'Augusta'. Fixed wording of some sentences. Updated to reflect the release of Whoosh!