Emerson, Lake & Palmer performed on this day in 1977 at the Seattle Center Coliseum in Seattle, Washington.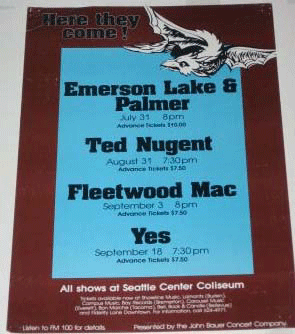 ELP were at this time on their Works Tour, touring in support of the first album of that name. The second, Works, Volume 2, would be released later in the year.
This was the first tour date in the United States after a short stint north of the border. The current motion of the tour was generally southward along the West Coast of the United States. Throughout August, they would continue South before going generally eastward.
This concert is known to have been recorded, and is in circulation online.