Emerson, Lake & Palmer performed on this day in 1977 at the Civic Center in Charleston, West Virginia.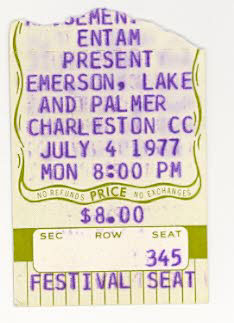 ELP were at this time on their Works Tour, which had begun near the end of May with an orchestra. It would be their last tour of the decade before they took a hiatus starting in 1978. While they would play some dates in Canada, including a legendary turn in Montreal at the Olympic Stadium which would become Works Live, this tour predominantly took place in the US. No other continents were visited.
There is no known recording of this particular concert.