Emerson, Lake & Palmer performed on this day in 1977 at Madison Square Garden in New York City, New York.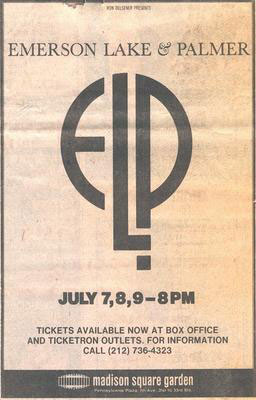 The group's experience on the Works Tour, undertaken to support the album Works, Volume 1, had already had its ups and downs. Notably, they had been forced to part ways with the orchestra which had begun the tour with them due to the financial strain. Throughout the month of June and into early July, the group had thus been touring as a three-piece. They did not formally part ways with the orchestra yet, however, saving them for some special occurrences.
This concert, the first of three at Madison Square Garden, was one such occurrence, presenting the Works experience as it was originally envisioned by the band. Numbers from every ELP album released up to that point, including the title track of Tarkus, an abridged version of "Pictures at an Exhibition", and their famous "Lucky Man" all made it to the stage.
The concert is known to have been recorded, and is in circulation online.
The group had last performed at Madison Square Garden in 1973 during their Brain Salad Surgery Tour. I talk more about the legendary venue here.
Thank you so much for reading. If you enjoyed this post, please consider donating on my ko-fi page or becoming a patron on my patreon! I'm currently raising funds in order to upgrade my wordpress plan to a premium one, which would allow me to improve my readers' experience in large ways and small. Thank you for your help!
Post Sources
http://www.covers-at-an-exhibition.de/Tourinfo/1977/jul07/jul07.html