Emerson, Lake & Palmer performed on this day in 1977 at Madison Square Garden in New York City, New York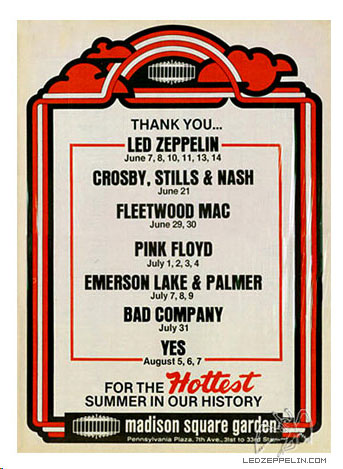 This was the last of the three shows ELP and the orchestra with which they had begun the Works Tour played at Madison Square Garden. After this date, ELP were back on the road as a three-piece, meeting up with the orchestra one last time in August at the Montreal Olympic Stadium.
This concert is known to have been recorded, and is in circulation online.
This was the last time ELP ever performed at Madison Square Garden, where they had given many an epic performance in their time. However, both of their major spinoff groups would play at the venue during their respective tours of North America. I talk more about the venue here.
Thank you so much for reading. If you enjoyed this post, please consider donating on my ko-fi page or becoming a patron on my patreon! I'm currently raising funds in order to upgrade my wordpress plan to a premium one, which would allow me to improve my readers' experience in large ways and small. Thank you for your help!