Emerson, Lake & Palmer performed on this day in 1977 at Cobo Arena in Detroit, Michigan.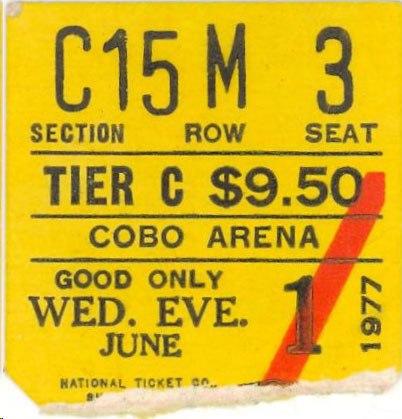 This concert was the second of two at Cobo Arena, the first having taken place on the previous night. This was the fifth stop on the tour and the seventh date overall on the Works Tour, which was just getting underway. Doubtless, not needing to move their massive retinue, which had over a hundred people, was a comfort to everyone involved–and a respite for the group's finances, which were already predicted to be negatively affected by this tour based on its incredible scale.
Each night when the band took the stage, numbers from every studio album save Tarkus made the stage. Obviously, as the album which the band was touring in support of, Works Volume 1 was the album which received the most stage time. Behind that, surprisingly, is Trilogy, which on this particular night had three numbers featured. Only a single number off Brain Salad Surgery, the last studio album to be released before Works 1, was on the setlist, a drastic contrast from the previous tour, during which the whole album was played.
This concert is known to have been recorded, and is in circulation online.
Thank you so much for reading. If you enjoyed this post, please consider donating on my ko-fi page or becoming a patron on my patreon! I'm currently raising funds in order to upgrade my wordpress plan to a premium one, which would allow me to improve my readers' experience in large ways and small. Thank you for your help!