Don't we all wish we'd been at this one!

Dick Uther apparently in regards to this concert as quoted by Garry Freeman, "Do You Wanna Play Some Magic? Emerson, Lake and Palmer in Concert 1970-1979"
Emerson, Lake & Palmer performed on this day in 1971 at the Stadthalle Offenbach in Offenbach, Germany.
Background
This concert, part of their lengthy Tarkus Tour which had been going since early March, came just four days prior to the release of Tarkus. The band had already completed two legs of their tour, one in their native England and one in North America. This particular leg had begun five days prior in Switzerland; this particular date was the second they were known to have performed in Germany.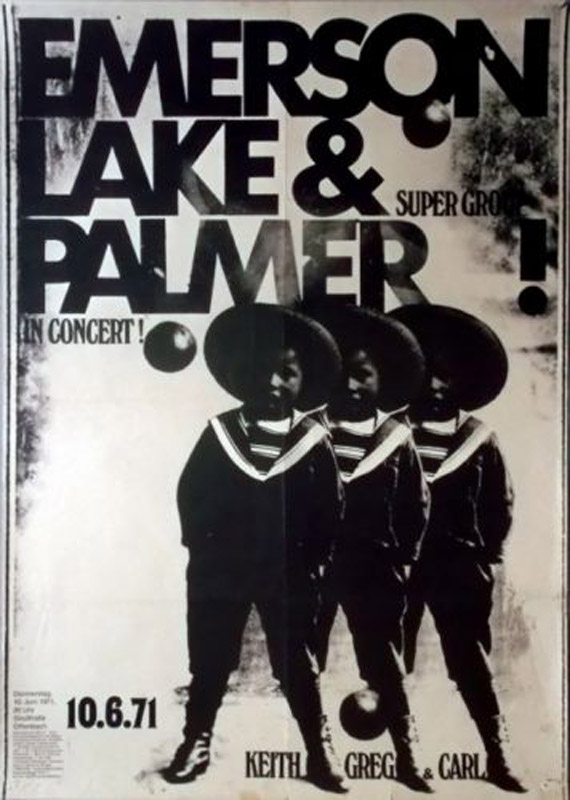 Concert Content
At this concert, the band played the title track from their soon-to-be released album augmenting a setlist which remained nearly identical to what it had been on the band's debut tour. The concert opened on "Pictures at an Exhibition", which had been recorded that previous March and slated for a release later in the year. Soon after this concert, the full "Pictures at an Exhibition" would be dropped from the setlist for good.
These two multimovement mammoths were joined by "The Barbarian", "Take a Pebble", and "Knife-Edge" from the debut album. Rounding out the setlist were "Rondo" from Keith Emerson's previous band, the Nice, and "Nutrocker", a cover of the B. Bumble and the Stingers song, which was itself a rock interpretation of a part of The Nutcracker.
Garry Freeman's Do You Wanna Play Some Magic? runs through how the concert generally went, which was quite well except for some unspecified issue with the Hammond L100 at the end of "Pictures at an Exhibition". While this concert was recorded, the recording has not been officially released.
The Venue
This was the first of two times that ELP would perform in Offenbach; they were apparently back the following week by popular demand. Both of these times, they would perform at the Stadthalle Offenbach, which reportedly seats around 3000 people.
The Stadthalle opened in 1966, and as of 2020, it is still operating and sees a robust concert schedule. In its time, it has seen several other major acts, including Deep Purple, Pink Floyd, Yes, King Crimson, and Rammstein. Its website can be found here.
Thank you so much for reading this post. If you enjoyed this post, please consider donating on my ko-fi page or becoming a patron on my patreon. I appreciate your help!
Post Sources
Edit History
Note: this was originally on my blog Forever-ELP, reposted here with some minor edits.
2020-01-01: edits to fix some grammatical and formatting issues.
2020-05-02: further formatting issues fixed, images added, information added.
2020-05-11: information added, citations added.
2020-07-24: Optimized for new site
2022-02-03: Ticket image upgraded. Poster image link fixed