Rainbow performed on this day in 1981 at Palais Saint-Sauveur in Lille, France.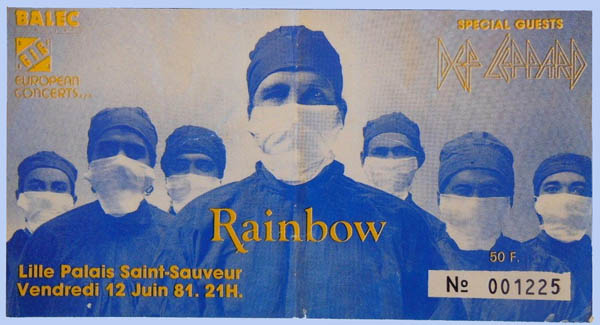 Rainbow's Difficult to Cure Tour was now on its third leg, the first two having taken place in North America. The first consisted of at least four small club dates on the Eastern Seaboard, the second of an arena tour co-headlined by Canadian guitarist Pat Travers.
This was the first time European audiences had a chance to meet the band's newest members, singer Joe Lynn Turner and drummer Bobby Rondinelli. After the all-British Down to Earth lineup of the previous two years, this returned the band to its status as a trans-continental undertaken, as it had been in its first incarnation as a collaboration between American Ronnie James Dio and British Ritchie Blackmore.
There is no known recording of this particular concert. It is the first concert from this tour to not have been recorded.