Emerson, Lake & Palmer performed on this day in 1977 at the Veterans Memorial Auditorium in Des Moines, Iowa.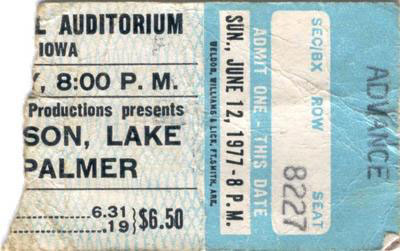 Sadly, this was the last regular date on ELP's Works Tour to see the band make use of an orchestra. The costs of having such a large road crew, as well as the simple salary of the musicians, proved to be too much. Unfortunately, according to Greg Lake's recollection, the band had had to cancel or reschedule a couple of concerts, putting them behind on finances even more. He also recalled that this was the night the decision was made, the orchestra tearfully offered to take a pay cut if they could just keep performing, an offer the band simply couldn't accept due to the dire state of their finances. While none of the musicians were happy about this decision, the group risked financial ruin if they continued on as such, so continued the tour as a three piece for most of the remaining dates.
ELP reunited with the orchestra for four more special dates. Three of these were their appearances at Madison Square Garden in early July, while the fourth was in Montreal. This last appearance would become the Works Live album.
This concert is known to have been recorded, and is in circulation online.
Thank you so much for reading. If you enjoyed this post, please consider donating on my ko-fi page or becoming a patron on my patreon! I'm currently raising funds in order to upgrade my wordpress plan to a premium one, which would allow me to improve my readers' experience in large ways and small. Thank you for your help!
Post Sources
Lake, Greg. Lucky Man.
Macan, Edward. Endless Enigma