The Norwegian composer Edvard Grieg was born on this day in 1843.
A child prodigy, Grieg entered the Leipzig Conservatory at just fifteen, though he would later say he failed to learn much about his own compositional style. A friendship with fellow Norwegian composer Rikard Nordraak greatly influenced him, leading to his champion of the Norwegian folk style within his music.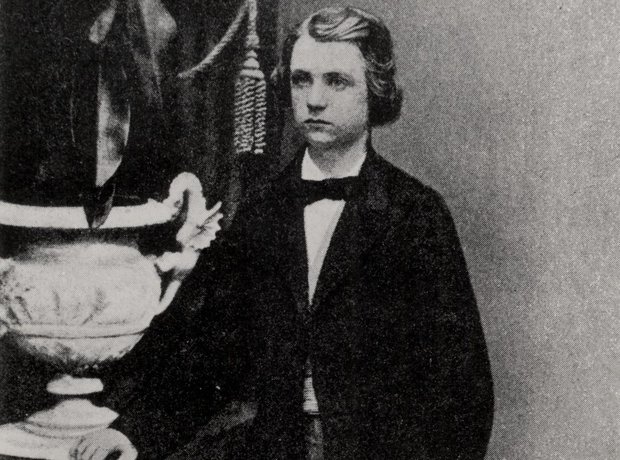 Grieg's most famous work is probably his first Peer Gynt Suite, two movements of which ("Morning Mood" and "In the Hall of the Mountain King") are common elements pop culture. Personally, I'm partial to the Danse Arabe from the second Peer Gynt Suite myself! Both of these suites came from incidental music Grieg wrote for Henrik Ibsen's play Peer Gynt, the story of a wanderer who lives a life of misadventures.
As well as being a great composer, Grieg took a few political stances, notably refusing to perform in France in the wake of the Dreyfus Affair, an antisemitic scandal at the end of the nineteenth century. Grieg's issues with the case stemmed from the miscarriage of justice in the case, which led to his refusal of invitations, incurring a great deal of anger from the French public. Even so, Grieg finally went to Paris for a concert in 1902. He was in fact a major influence upon both Claude Debussy and Maurice Ravel, two of France's major composers!
Today's a good day to look for "Morning Mood" in ads near you; one actually came on while I was writing this post! If you feel like a deeper look into Grieg, perhaps try his monumental Piano Concerto in A Minor.
Thank you so much for reading. If you enjoyed this post, please consider donating on my ko-fi page or becoming a patron on my patreon! I'm currently raising funds in order to upgrade my wordpress plan to a premium one, which would allow me to improve my readers' experience in large ways and small. Thank you for your help!
Post Sources