Emerson, Lake & Palmer performed on this day in 1977 at the Spectrum in Philadelphia, Pennsylvania.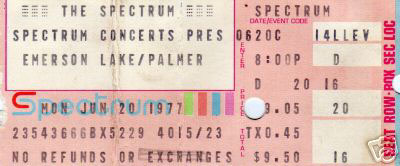 This is the first concert at which the orchestra was definitely not in attendance. Budgetary concerns had forced the band to part ways with this newest attempt at innovation and rescue what they could of their finances. Barring a few special performances later in the year, the band performed as a three-piece for the remainder of their tour.
While the band was still touring in support of their recently-released Works, Volume 1, getting rid of the orchestra meant they also had to change their setlist. Only three songs from the double album remained on the setlist: "C'est la Vie", "Pirates", and "Fanfare for the Common Man". For the remainder of the setlist, they played a selection of some of their most popular works, including "Karn Evil 9: 1st Impression, Part 2", which now opened the concert.
This concert is known to have been recorded, and is in circulation online.
Thank you so much for reading. If you enjoyed this post, please consider donating on my ko-fi page or becoming a patron on my patreon! I'm currently raising funds in order to upgrade my wordpress plan to a premium one, which would allow me to improve my readers' experience in large ways and small. Thank you for your help!