Emerson, Lake & Palmer performed on this day in 1977 at the Spectrum in Philadelphia, Pennsylvania.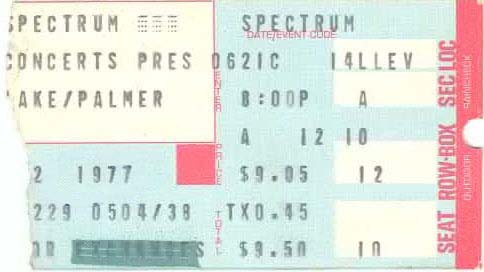 This was the band's second consecutive day in Philadelphia. The band were still early on this part of the Works Tour, the portion without the orchestra. The orchestra rejoined them at a few special concerts, but except for that the remainder of the tour was undertaken as a three-piece. This long tour, going for about ten months with only a break in December, was the last the band would take in the 1970s. Afterwards, they made up these mind to disband for a while, but were forced by their record label to make one last album.
There is no known recording of this particular concert.
I talk more about the venue at which the band performed, the Spectrum, here.
Thank you so much for reading. If you enjoyed this post, please consider donating on my ko-fi page or becoming a patron on my patreon! I'm currently raising funds in order to upgrade my wordpress plan to a premium one, which would allow me to improve my readers' experience in large ways and small. Thank you for your help!