Emerson, Lake & Palmer performed on this day in 1977 at the Birmingham-Jefferson Civic Center in Birmingham, Alabama.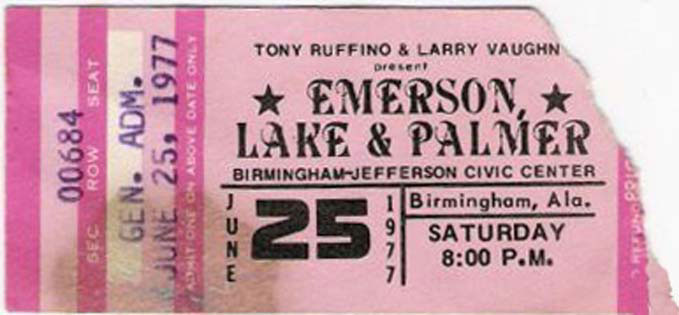 ELP's Works Tour had already hit a major snag, forcing the group to get creative after losing their orchestra about two weeks prior to this gig. Thus, they quickly altered their setlist based on the recordings we have extant, dropping many of the songs from the recently-released Works, Volume 1. Only a single song from Greg Lake's solo side of the album, "C'est la Vie", was retained, while songs from Keith Emerson and Carl Palmer's respective solo sides were entirely dispensed with. However, the closing side of the album, in which the trio played together, remained on the setlist in its entirety.
This concert is known to have been recorded and is in circulation online.
Thank you so much for reading. If you enjoyed this post, please consider donating on my ko-fi page or becoming a patron on my patreon! I'm currently raising funds in order to upgrade my wordpress plan to a premium one, which would allow me to improve my readers' experience in large ways and small. Thank you for your help!
Post Sources