Deep Purple performed on this day in 1973 at Osaka Kosei Nenkin Kaikan Hall in Osaka, Japan.
According to a German report, the band performed two sold-out shows on this night. It was the final stop on the Japanese leg of the tour, as well as the final stop in general for the tour to promote Who Do We Think We Are, which had been released earlier that year. Most notably, it was the last concert undertaken with Deep Purple's Mark II lineup for eleven years. Despite their worldwide success, morale within the band was quite low.
Ian Gillan had announced his resignation from the band the previous December due to exhaustion, isolation, and general tension with other members of the band; he agreed to stay with the band for the remainder of their booked dates, including this one.
Roger Glover, however, was an entirely different story. He also left the band after this concert, though under different circumstances. According to one source, he resigned voluntarily after hearing that other members of the group were planning to have him replaced. The general story, however, is that he found out about twenty minutes prior to stepping onstage for this last concert. By the time the performance came to an end, by his own admission he was in tears.
The source of Glover's firing has been something of a debate between the other members of the group since. Guitarist Ritchie Blackmore obliquely threw the blame in drummer Ian Paice's direction, suggesting it was his idea to get rid of Glover despite Blackmore's unwillingness to throw him out. Paice and guitarist Jon Lord, however, claim that it was Blackmore who had threatened to quit if they didn't get rid of Glover, whom he had since become dissatisfied with.
Notably, this very bittersweet day in Purple's history also happened to be the birthday of the then-youngest member of the group, Ian Paice. Paice was apparently met by a banner from fans in the hotel lobby that day. Within the band, Jon Lord played "Happy Birthday" during the post-"Space Truckin'" jam at one concert, likely for Paice's benefit.
After the last song, Jon Lord, apparently visibly angry, kicked over his Hammond, while Ian Paice at the same time tossed some of his gear haphazardly into the audience. Ian Gillan came up to the microphone and made a quick speech thanking the audience, informing them that things had come to an end. One source I saw suggested that Gillan's announcement kicked off a riot, though this may have been conflated with the one on June 25th at the Budokan.
One of these concerts is known to have been recorded. It is in circulation online.
The hall that since became named the Orix Theater but at the time was known as the Kosei Nenkin Kaikan Hall, which had opened on April 14, 1968. It seated 2,400 people.
Deep Purple had performed there in 1972 and would do so again in 1975. They returned once more in the 2000s and 2010s. Here are some of the other concerts which took place at the venue, and here are some of the ones which were recorded. It still operates today, having been refurbished and reopening as the Orix Theater on April 8, 2012. Its website can be found here.
Postscript
After the concert, Ian Gillan reportedly retreated to his room with his girlfriend Zoe, not to be seen for the rest of the night. Roger Glover apparently openly wept in one of the dressing rooms. Of the three members of the group who'd kept their jobs, Ian Paice was the only one visibly upset, reportedly loudly cursing. Jon Lord notably had no real reaction. Ritchie Blackmore, by contrast, looked relieved, even smiling. The band went out to a bar to celebrate Paice's birthday afterwards, at which Gillan was not present. It sounds as if Glover, however, was.
Gillan and Glover went home on the same plane; according to Gillan, they said nothing to each other for the whole flight. Gillan took a hiatus from the music business and attempted other projects, including an attempt at running a hotel which fell through. He returned to the stage as a favor to Glover, who called him onstage to sing a number for a live performance of The Butterfly Ball and the Grasshopper's Feast. Not long after, he embarked upon a solo career, first with the Ian Gillan Band, then with Gillan. In these bands, he explored hard rock, progressive rock, and even a bit of jazz fusion. After both these projects ended, he spent a brief period as the singer for Black Sabbath.
Glover, who admitted in later interviews that he was hit quite hard by his firing, turned instead to his role as a producer. In his time, he worked with such bands as ELF, Nazareth, Judas Priest, and Status Quo. Meanwhile, he also created The Butterfly Ball and the Grasshopper's Feast and a single solo album, Elements. It was in the capacity of producer that he was brought back into the Deep Purple family fold when Blackmore contacted him to produce Down to Earth.
When the group failed to find a satisfactory bassist, Glover took up the instrument again for the first time since his firing from Purple. The period he spent with Rainbow, as well as his total time in Purple, make him Blackmore's longest collaborator in the world of rock 'n roll and second-longest collaborator period.
Deep Purple's three remaining members after this concert, Blackmore, Lord and Paice, quickly hired bassist Glenn Hughes formerly of trapeze. They originally planned to hire Paul Rodgers for the group, but instead picked newcomer David Coverdale in what became his first major rock gig. This third lineup of the band debuted that December, just under six months after the dissolution of the second lineup. They would go on to release two albums before Blackmore tired of Deep Purple and quit for the first time to help found Rainbow, after which time Lord and Paice recruited Tommy Bolin for one last album before splitting themselves.
In 1984, the members of this second lineup were reunited from their various bands–Blackmore and Glover from Rainbow, Gillan from Black Sabbath, and Lord from Whitesnake, with Paice apparently not involved in any other major projects–to recreate the Mark II lineup. They released two albums in the 1980s and returned to a punishing tour schedule. The third leg of their Perfect Strangers tour took them back to Japan and Osaka, though the Mark II lineup would never again perform at the venue which saw their second lineup fold for the first time.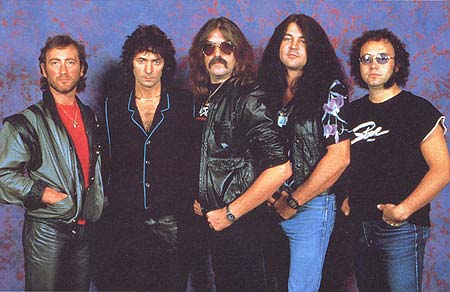 Thank you so much for reading. If you enjoyed this post, please consider donating on my ko-fi page or becoming a patron on my patreon. I appreciate your help!
Post Sources
Venue Sources
Edit on 2020-09-18: Added information about Purple's performance history at the venue. Optimized for new site.
Edit on 2020-09-21: Added information about the members' reactions to the final concert. Updated info on the riot. Added info on the idea of two concerts.