Rainbow performed on this day in 1981 at the Scandinavium in Gothenburg, Sweden.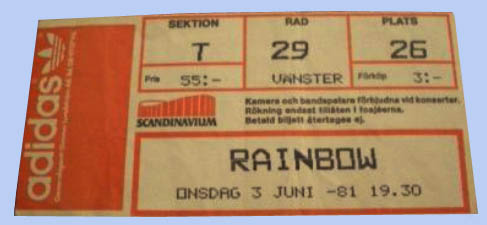 This was the first major tour date Rainbow had in Europe in 1981, though they reportedly had rehearsal the day before. They had begun their Difficult to Cure Tour in the United States, the home country of their new singer Joe Lynn Turner and drummer Bobby Rondinelli.
Both the actual concert and the soundcheck are in existence, and are in circulation online. Funnily enough, this is also the case with the previous time Rainbow performed in Gothenburg over a year prior.
I talk more about the venue at which they performed, the Scandinavium, here.
Thank you so much for reading. If you enjoyed this post, please consider donating on my ko-fi page or becoming a patron on my patreon! I'm currently raising funds in order to upgrade my wordpress plan to a premium one, which would allow me to improve my readers' experience in large ways and small. Thank you for your help!