Emerson, Lake & Palmer performed on this day in 1977 at the Carolina Coliseum in Columbia, South Carolina.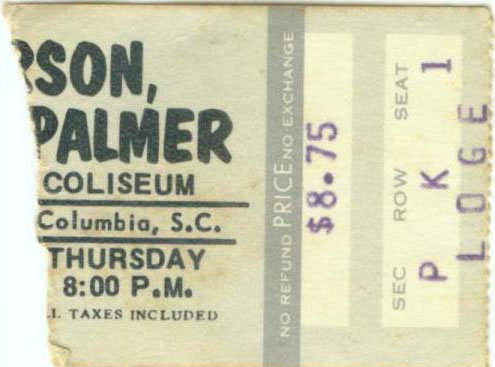 ELP were at this time on their Works Tour. The month of June had seen seismic shifts in the tour, with the loss of the orchestra due to financial issues forcing the band to tour as a three piece. This had necessitated an overnight change in the group's setlist, which based on surviving evidence seemed to have been based more heavily on their old work. As Works, Volume 1, the album which the group were currently touring in support of, had been played with an orchestra, a lot of it was scrapped with the orchestra. The entire final side of the double LP, including "Fanfare for the Common Man" and "Pirates", was retained, however.
There is no known recording of this particular concert.
Thank you so much for reading. If you enjoyed this post, please consider donating on my ko-fi page or becoming a patron on my patreon! I'm currently raising funds in order to upgrade my wordpress plan to a premium one, which would allow me to improve my readers' experience in large ways and small. Thank you for your help!