Rainbow performed on this day in 1981 at Johanneshov Isstadion in Stockholm, Sweden.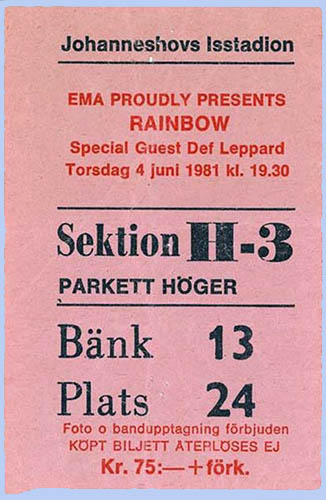 Rainbow's Difficult to Cure Tour had come to Europe at last after performing in North America for four long months. On their previous legs, they had first played just in small club venues and then as a co-headliner with Pat Travers. Now, finally, they were the sole headliners a large stadium tour.
The Rainbow which came to Johanneshov Isstadion was a very different act than had been there the previous August. The sole consistent member from the beginning of their touring history beyond Ritchie Blackmore, Cozy Powell, had left; he was replaced by Bobby Rondinelli. Singer Graham Bonnet had also been replaced by an American, the singer Joe Lynn Turner. They were also playing different music, as the Difficult to Cure album marked a noticeable genre shift from proto-heavy metal to more chart-friendly AOR sound.
This concert is known to have been recorded. It is in circulation online.
Thank you so much for reading. If you enjoyed this post, please consider donating on my ko-fi page or becoming a patron on my patreon! I'm currently raising funds in order to upgrade my wordpress plan to a premium one, which would allow me to improve my readers' experience in large ways and small. Thank you for your help!