Episode Six performed on this day in 1969 at the Ivy Lodge Club in Woodford Green, a part of London.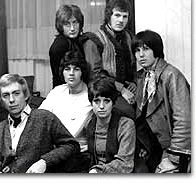 At this point in their history, Episode Six had had some semi-successful singles, but had struggled with chart success. A trip to Lebanon, an unusual and creative move for a British bands even now, had given them success there which they had struggled to replicate in their home country. Thus, at this point in their career, they were apparently working on a debut album and playing one-off gigs throughout the country.
This gig is particularly historically noteworthy for the audience. Among them were two other musicians, guitarist Ritchie Blackmore and keyboardist Jon Lord, who were hunting for new band members. The former had been brought in by his friend and former bandmate Mick Underwood to take a look at Gillan for the potential job with Deep Purple. Blackmore even apparently jammed with Episode Six, which seemed to have ruffled the feathers of a few members of the band, Roger Glover included! Some have disputed whether this actually happened, and that Blackmore simply pointed at Gillan and left. However, given Glover himself confirms this story, it seems fairly likely it happened.
Blackmore and Lord, dissatisfied with the current direction of their own band Deep Purple, weren't just seeking pleasure with this particular trip. Rather, they were actively on the hunt for a new singer–which Rod Evans, their current singer, was not aware of! In Blackmore and Lord's opinion, one apparently shared by Evans' former Maze bandmate Ian Paice, the group's collective ambitions were outgrowing his abilities. By contrast, Ian Gillan possessed a powerfully loud voice and a famously large range at this point in his career. In my opinion, just as importantly, he knew how to use it, and possessed a greater ability to vary his voice depending on mood than Evans did.
It seems that Gillan was offered the job immediately, perhaps even that very night, which he quickly accepted. In the ensuing days, next steps were quickly taken, including Gillan's informing Episode Six of his impending departure, another meeting between Gillan and his three future bandmates-to-be, discussions about Gillan bringing another his bandmate and good friend Roger Glover into the Purple fold, and even a recording session. All of this occurred within three days of this particular concert. Within a year of this concert, Purple had released a live album and a studio album with their new bandmates, giving them the acclaim they had always sought.
Sadly, there is no known recording of this particular concert.
The Venue
The Ivy Lodge Youth Club at which the group performed held music events three times weekly for five years in partnership with the local church.
The club was noted by former members for it's atmosphere, though it appears that no photos survive to show what it would've been like inside. The concert nights ended in 1970, and the building was demolished some time thereafter.
Thank you so much for reading. If you enjoyed this post, please consider donating on my ko-fi page or becoming a patron on my patreon. I appreciate your help!
Post Sources
Thompson, Dave. Smoke on the Water: The Deep Purple Story. p 69-70
Glover, Roger. Interview portion of Deep Purple – Heavy Metal Pioneers. 1991.
Edit on 2020-06-05: Added extra source