Emerson, Lake & Palmer performed on this day in 1977 at the Milwaukee Arena in Milwaukee, Wisconsin.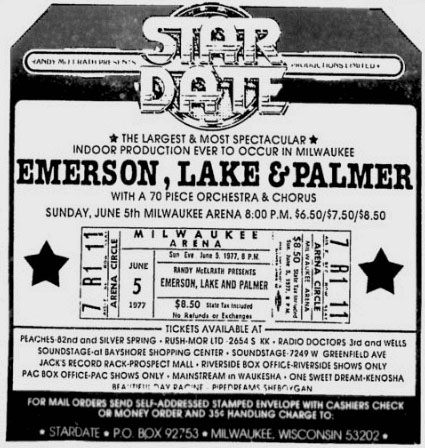 ELP's Works Tour promised a large and spectacular event to its viewers, as the above poster indicates. By all accounts, they were correct. ELP had prior to this only ever performed with a choir at two one-off concerts which ended their 1973 run, and never had performed with an orchestra.
This concert was partially recorded, and is in circulation online.
Thank you so much for reading. If you enjoyed this post, please consider donating on my ko-fi page or becoming a patron on my patreon! I'm currently raising funds in order to upgrade my wordpress plan to a premium one, which would allow me to improve my readers' experience in large ways and small. Thank you for your help!