Emerson, Lake & Palmer performed on this day in 1972 at the Falkoner Theater in Copenhagen, Denmark.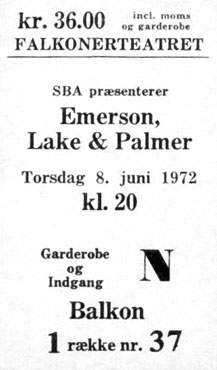 ELP were at this time supporting their Trilogy album, which would be released later in the summer. Trilogy proved to be exceedingly difficult to perform live, to the point that the title track was dropped after only two performances. "Hoedown", which opened this concert, proved to be much more enduring in ELP live shows.
Part of this concert was recorded and is in circulation online.
This was ELP's Danish debut, the first of three times during which they performed in Copenhagen. I talk more about the Falkoner Theater, at which this concert took place, here.