Emerson, Lake & Palmer performed on this day in 1978 at Freedom Hall in Johnson City, Tennessee.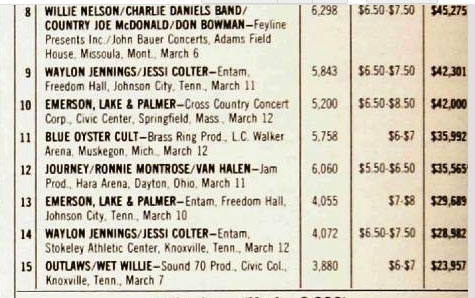 ELP's Works Tour provided fans with a final chance to see the band prior to their going on hiatus later in the year. This particular concert was the last time they performed in the southern United States on this tour. Emerson, Lake & Powell and Three would both return to the region in 1986 and 1988 respectively, and ELP proper would be back in 1992.
Interestingly, although the above record states that 4,055 tickets were sold, another source has the actual attendance at 4,193.
There is no known recording of this concert, nor any after March 9th on this tour.
The band filled less than half of the capacity of the venue at which they performed, the Freedom Hall Civic Center. The hall has a capacity of 8500 according to what I've been able to find. However, a quick look at a list of performances which occurred at the venue shows that very few events actually managed to make capacity.
The hall first opened in 1974, with Bob Hope being the first performer there. It continued to host a variety of events and concerts, including, unusually, a convention of Jehovah's Witnesses. A change in traffic patterns resulted in this arena being sidelined in favor of other performance venues, causing it to fall by the wayside in the 1980s and 1990s. However, it is still in operation today, with a website available here.
Thank you so much for reading. If you appreciate what I do, consider donating on my ko-fi page or becoming a patron on my patreon! I'm planning on upgrading my wordpress plan to a premium one, which would allow me to improve my readers' experience. Since I'm fairly broke, I would love it if the costs were offset a bit. Thank you!
Venue Sources