Emerson, Lake & Palmer performed on this day in 1978 at the Civic Center in Springfield, Massachusetts.
This was the second-to-last concert ELP performed on the second leg of their Works Tour. By this point, ELP had visited almost forty different cities all throughout North America, bringing their music to places from Nacogdoches to New Haven, from Tempe to Toronto. After this tour, they would attempt to have a much-needed vacation in the Bahamas with their families. This would, however, soon turn into what many could take as an argument against mixing work and play…
For those of you who think that this setup looks a little familiar, you would be correct. ELP had previous performed here on January 29th, earlier on this leg. Unlike the concert at Cincinnati which was rescheduled or the concerts in Morgantown whose exact nature I am still working to pin down, however, this is a genuine case of two separate concerts, which are reasonably well-documented in their own right.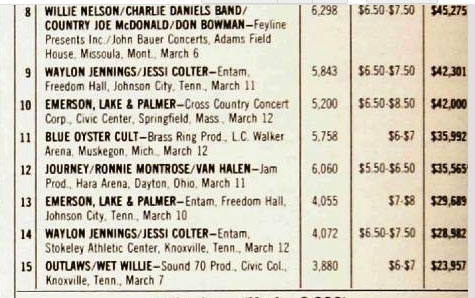 No recording of this concert is known to exist.
The venue for their concert, the Springfield Civic Center, is now known as the MassMutual Center. It first broke ground in 1970, and its first event occurred on September 5, 1972. The official capacity of the arena is 8,000. However, an ELP concert here had reported ticket sales past 10,000.
Here is a list of concerts which occurred here while it was still called the Springfield Civic Center. As well as concerts, this arena also hosted basketball and hockey. It even served as a substitute home to the Hartford Whalers after the Hartford Civic Center at which they normally played experienced a roof collapse.
Currently, it is overseen by the Massachusetts Convention Center Authority. It is still in operation to this day, with more information available on its website.
Thank you so much for reading. If you appreciate what I do, consider donating on my ko-fi page or becoming a patron on my patreon! I'm planning on upgrading my wordpress plan to a premium one, which would allow me to improve my readers' experience. Since I'm fairly broke, I would love it if the costs were offset a bit. Thank you!
Venue Sources: