Rainbow performed on this day in 1981 in Edmonton, Alberta, Canada.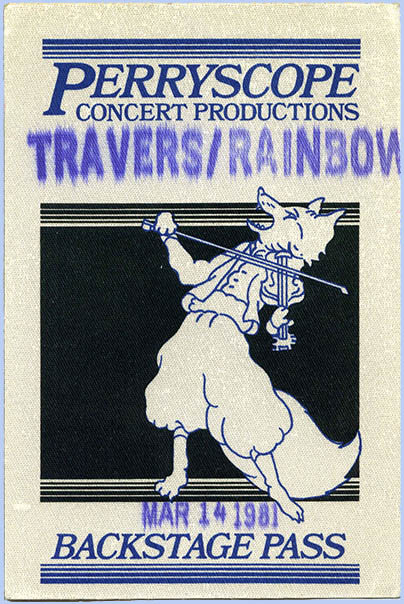 Rainbow had recently embarked upon their Difficult to Cure Tour, first playing a small set of warmup club dates the previous month. Beginning four days before this concert, they had begun a portion of the tour co-headlined by Canadian guitarist Pat Travers. For this and the previous concert, the two had no support act. A variety of other support acts would join them as the Rainbow-Travers act wound through North America.
As of this tour, the only continuous member of Rainbow was Ritchie Blackmore. For the most recent album, Difficult to Cure, Joe Lynn Turner had stepped up to the microphone, while Bobby Rondinelli had stepped up to the drum kit. Keyboardist Don Airey and bassist Roger Glover were both holdovers from the previous album, Down to Earth.
There is no specific setlist from this night available. However, the standard setlist from the time included four songs from their most recent album. Two further songs came from the album's immediate predecessor, Down to Earth. Three further songs came from the Ronnie James Dio era of Rainbow. This tour even included a song from Deep Purple, "Smoke on the Water". Fittingly, two of the original writers of the song, guitarist Ritchie Blackmore and bassist Roger Glover, were in Rainbow at the time. Two other members, singer Joe Lynn Turner and keyboardist Don Airey, would join Purple later, though they did not overlap one another.
There is no known recording of this concert.
I have received conflicting information on where this concert actually took place. Rainbow Fanclan Legacy lists it as having taken place at the Concert Bowl. Meanwhile, the Deep Purple Hub lists it as having taken place at the Northlands Coliseum; this claim is backed up by setlist.fm. I have been unable to find a ticket which would conclusively prove either.
Thank you so much for reading. If you enjoyed this post, please consider donating on my ko-fi page or becoming a patron on my patreon. I appreciate your help!
Edit on 2020-10-09: Added setlist.fm citation. Included support act information. Included setlist information. Optimized for new site.
Post Sources