We were trying to do our best because the Liverpool audiences had always been marvellous to us. They should have booed us off but they didn't.

Jon Lord discussing this concert. Quoted here.
Deep Purple performed on this day in 1976 at the Empire Theatre in Liverpool, England.
This date was the fifth in a set of tour dates performed in the United Kingdom coming at the end of the worldwide Come Taste the Band Tour, done to promote the album of the same name. This was the only album and tour that Deep Purple's fourth lineup ever undertook.
This concert spelled not only the end of the tour, but the end of Deep Purple's fourth lineup. With Tommy Bolin's death nine months later, a true reunion of the Mark IV lineup became impossible.
The entire Come Taste the Band Tour had been plagued by difficulties, including performance-hampering drug addictions from band members Glenn Hughes and Tommy Bolin. Reports from other dates on this leg suggest the problems were quite visible to audience members. Within the band, meanwhile, at some point before this day Ian Paice and Jon Lord had already quietly agreed to end the band after the England tour due to the increasingly poor quality of the performances.
The Concert
On this particular night, the group reportedly came in so late from Scotland that they were unable to do a soundcheck. Once they reached the stage, eyewitnesses recalled later that David Coverdale was often offstage. Glenn Hughes thus took over much of the vocal duty–this despite Hughes later admitting that he was also in fairly bad shape during the tour! Bolin's guitar solo, according to eyewitness accounts, was particularly rough.
There was no encore; judging from recollections that Hughes attempted to get one on and then threw his bass in frustration, that may have been a decision that came during the concert rather than something the band decided before. Hughes was not the only one who was frustrated by the concert within the band. Coverdale, apparently in tears over the state the group had been reduced to, went to find the rest of the band to tender his resignation.
In actual fact, when David came into the dressing room that night to see Paicey and myself and say that he was leaving the band, we rather sadly informed him that there was in fact no band to leave.

Jon Lord regarding the conclusion of the band. Retrieved from here.
Deep Purple, for the time being, was over.
Aftermath
Tommy Bolin would die tragically in December of that year, but not before recording an album in June of that year, releasing it in September, and even managing a short supporting tour.
Glenn Hughes, for his part, struggled for over a decade against the drug addiction which claimed his bandmate and led to much of the problems late in Mark IV's existence. In the end, he managed to overcome it, and now has been sober since the early 90s. Today, he still provides fans with reminders of his time in Deep Purple when he performs music both from his time and from other eras of the band. He was inducted into the Rock 'n Roll Hall Of Fame in 2016 along with Coverdale, Paice, and Lord from the Mark IV lineup, and dedicated his award in part to Tommy Bolin.
David Coverdale would never again sing with Deep Purple, instead finding a very different outlet for his creative talents. While he first attempted a solo career, this morphed into the band Whitesnake, which has become a hard rock juggernaut in its own right. He has fronted the band since 1978 with occasional hiatuses, where he has performed with some of the best musicians in the business. He was inducted into the Rock 'n Roll Hall of Fame in 2016 as part of Deep Purple along with the three members of the Mark IV lineup listed above.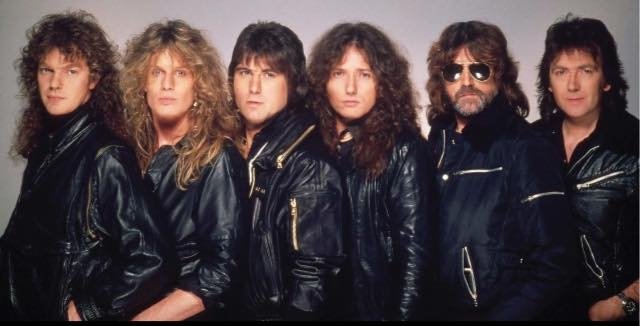 Jon Lord would join Whitesnake as well in not too long a time. Before that, however, he found time to collaborate with Tony Ashton and Ian Paice for a single album, Malice in Wonderland. Bernie Marsden and Paul Martinez filled in on electric guitar and bass respectively. The collaboration was quite short-lived, with only a couple of concerts to support the album, but well-regarded to this day.
Ian Paice later joined Whitesnake as well. However, he was forced out after a brief period. For his first project outside the wider Deep Purple family since he joined up in 1968, he briefly worked with Gary Moore beginning on the album Corridors of Power. Among his other collaborators was the first keyboardist he worked with substantively other than Jon Lord, Rainbow veteran Don Airey. This would one day come full circle itself when the two found themselves collaborating again.
Deep Purple itself was only disbanded for a period of eight years before talks began again to restart the group. Lord and Paice returned to the group, bringing with them the remainder of the Mark II lineup. The group released a new album and embarked upon a world tour in 1984. Since reuniting, the group has remained on a fairly steady touring schedule, with new albums periodically hitting the markets; the twenty-first, Whoosh!, was originally scheduled for a June 12th release, was later pushed back to August 7th.
There is a recording of this concert in existence. It is in circulation online.
There are also a great deal of photos of the performance in existence, including these.
I talk more about the venue at which the band performed, the Empire Theatre, here.
Thank you so much for reading. If you enjoyed this post, please consider donating on my ko-fi page or becoming a patron on my patreon. I appreciate your help!
Post Sources
Edit on 2020-08-14: added quote. Fixed images. Optimized for new site.