Emerson, Lake & Palmer performed on this day in 1971 at the Big Apple Club in Brighton, England.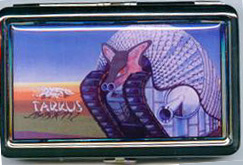 ELP's Tarkus tour was still in its early phases at the time of this concert. The tour would last for the duration of 1971, bringing ELP to the United States for the first time. Some of the venues at which they had performed had been ones at which they had already played the previous fall during their debut tour. However, most were new.
The Tarkus Tour was the time during which ELP's status changed from "newcomers" to "rising stars". Coinciding with this tour, ELP also released their second album in June, during their first Europe leg. They also recorded and released their first live album, Pictures at an Exhibition.
There is no known recording of this concert.
ELP performed at the Big Apple Club, a small venue that was situated within the Regent Theater Concert Hall (or possibly a new name for the Concert Hall; there is not a ton of information about the hall online). What little information I found suggested it wasn't open for a very long time, only holding concerts from 1970-1971. Despite its short time being open, the club hosted such big names as Deep Purple, the Rolling Stones, and Fleetwood Mac.
Venue Sources