Emerson, Lake & Palmer performed on this day in 1978 at the Checkerdome Arena in St. Louis, Missouri.
This concert marked the beginning of the third month on this leg of ELP's Works Tour. Overall, the Works Tour had begun as a highly ambitious project, as the band brought a full orchestra to tour with them. As well as highly ambitious, it unfortunately turned out to be highly expensive, forcing them to drop the orchestra midway through the first leg. This second leg of the tour was undertaken to make up financially for the first portion of the tour.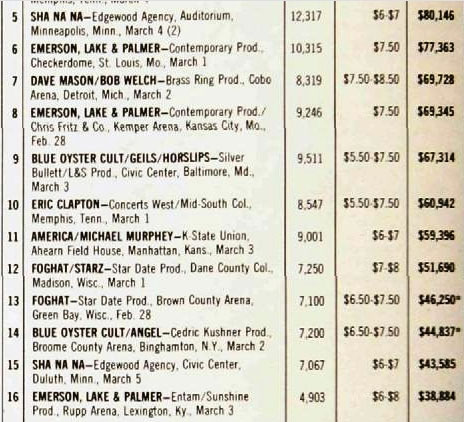 March of 1978 would also prove to be the last month ELP was on the road together until July of 1992, over fourteen years later. In the time after they disbanded, the trio toured in solo outfits and as pairs within larger groups–Greg Lake and Carl Palmer in Asia, Keith Emerson and Greg Lake in Emerson, Lake & Powell, and Keith Emerson and Carl Palmer in Three.
There is no known recording of this concert.
The concert took place at the Checkerdome Arena, which in other parts of its history was known as the St. Louis Arena. It was built in 1929, originally to hold livestock shows.
The arena was damaged by a tornado which tore parts of its roof off in the 1950s, but it was later restored. It could seat around 15,000 people after some renovations, and eventually reached as many as 20,000. In its era as a concert venue, it hosted these events, among others.
Sadly, the arena was demolished in February of 1999.
Venue Sources