Emerson, Lake & Palmer performed on this day in 1978 at the Riverfront Coliseum in Cincinnati, Ohio.

Originally, this concert had been scheduled for January 27, but was rescheduled. I've heard but cannot yet verify that this was due to a snowstorm.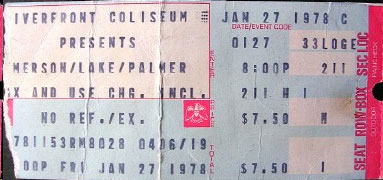 This was the fifth-to-last concert the band undertook of their Works Tour. This particular leg had begun in January and had been undertaken in part to recoup losses taken on by the first portion of the tour, during which time ELP had toured with an orchestra. That had proved so financially disastrous that the group had had to dispense with it before too long; thankfully, they managed to tour with them long enough that we as a listening public were given some memorable concerts! The recordings which survive from ELP's collaboration with an orchestra are things to behold indeed.
Getting rid of the orchestra gave ELP a chance to do a bit more of what they had become famous for: improvising. The "Aquatarkus" portion of "Tarkus" still filled that spot, though performances of the song from this era are far shorter than they were on previous tours.
Sadly, there is no recording of this concert.
The venue at which ELP performed, the Riverfront Coliseum, really was situated on the banks of the Ohio River. However, it actually got its name from the adjacent Riverfront Stadium. It later took on the names of a succession of banks, currently being named after Heritage Bank.
Work was begun on the coliseum in November of 1973, and it was eventually opened in 1975. While it served mostly as a sports center, it was also the location of many concerts in its time. It had a capacity of over 17,000, though appears to have sold more than that amount for some concerts. It was also the location of a horrific tragedy in December of 1979, when a stampede before a Who concert killed 11 people. The arena and many others like it banned general admission after that point, making only one exception in 2002.
Its website can be found here.
Venue Sources
Thank you so much for reading. If you appreciate what I do, consider donating on my ko-fi page. If you'd like to get some extra content, check out my patreon! I'm planning on upgrading my wordpress plan to a premium one, which would allow me to improve my readers' experience. Thank you!