Rainbow performed on this day in 1981 at the Palace Theater in Albany, New York.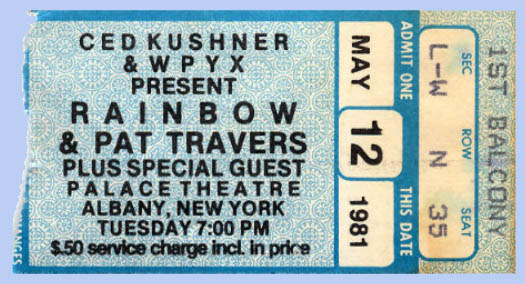 This was the third-to-last confirmed date that Rainbow played while co-headlining with Pat Travers. While there may have been a fourth date right at the end, there is no confirmation that the band actually played there. After these dates, Rainbow would take a few weeks off before continuing the Difficult to Cure Tour in Europe.
This was actually the second time Rainbow had been in Albany on this tour. For the first date they played here, they performed at J.B. Scott's while doing their short opening set of club dates. Albany was the only city visited on both the club date leg and the Travers leg.
This concert is known to have been recorded. It is in circulation online.
Thank you so much for reading. If you enjoyed this post, please consider donating on my ko-fi page or becoming a patron on my patreon! I'm currently raising funds in order to upgrade my wordpress plan to a premium one, which would allow me to improve my readers' experience in large ways and small. Thank you for your help!