Rainbow performed on this day in 1981 at the Civic Arena in Springfield, Massachusetts.

Rainbow were coming to the end of the American leg of their Difficult to Cure Tour. They undertook these dates sharing a bill with Canadian guitarist Pat Travers, who was also touring in support of a new album.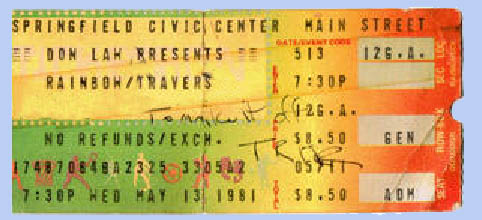 Before the dates with Pat Travers began, Rainbow undertook four small club date performances along the Eastern Seaboard; perhaps this was a chance to prepare new members Joe Lynn Turner and Bobby Rondinelli, neither of whom had had significant experience on the national stage prior to their work with Rainbow.
There is no known recording of this particular concert.
I talk more about the venue at which the band performed, the Civic Arena, here.
Thank you so much for reading. If you enjoyed this post, please consider donating on my ko-fi page or becoming a patron on my patreon! I'm currently raising funds in order to upgrade my wordpress plan to a premium one, which would allow me to improve my readers' experience in large ways and small. Thank you for your help!