Rainbow performed on this day in 1981 at the Mid-Hudson Civic Center in Poughkeepsie, New York.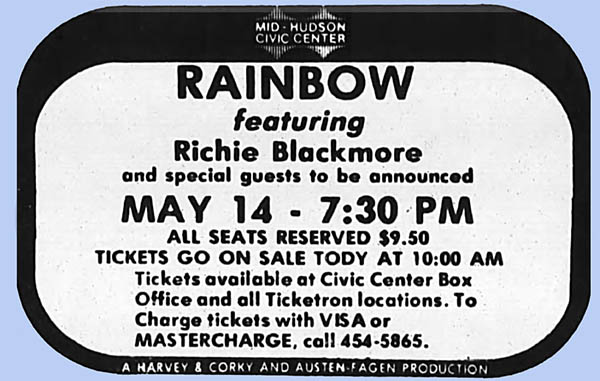 This was the last confirmed date at which Rainbow played on this leg of their Difficult To Cure Tour. A ticket for next day's concert only has Pat Travers, their co-headliner since early March, listed. It would also be difficult for the band from a personnel standpoint; guitarist Ritchie Blackmore got married just two days after this date.
There is no known recording of this particular concert.
Thank you so much for reading. If you enjoyed this post, please consider donating on my ko-fi page or becoming a patron on my patreon! I'm currently raising funds in order to upgrade my wordpress plan to a premium one, which would allow me to improve my readers' experience in large ways and small. Thank you for your help!