3 performed on this day in 1988 at Madison Square Garden in New York City, New York.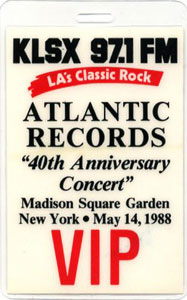 This particular concert resulted in the group's first and only cancellation on their North American Tour. Keith Emerson, Robert Berry, and Carl Palmer interrupted their slow move east through the American south to appear at this special performance to celebrate Atlantic Records' 40th Anniversary. While 3 were not on Atlantic Records, Emerson, Lake & Palmer had been. This concert was thus arguably the closest 3 was to standing in the shadow of two of the members' former band; for the most part, while 3 performed instrumental numbers from ELP, they had a distinct identity.
While some bands who performed at the show were specifically reunited just for this concert, Emerson and Palmer performed with Robert Berry rather than do a one-off reunion with former bassist Greg Lake. They presented themselves not as 3, but as "Emerson and Palmer". Robert Berry still appears in concert footage, however, so at least viewers knew he was there.
Ironically for appearing as the ghost of ELP past, the band's set included a pair of songs from the Nice, "America" and "Rondo", as well as "Fanfare For the Common Man" which was not recorded and a short (by Carl Palmer standards!) drum solo. While Keith Emerson referenced the first song as being "ELP veterans", ELP had never performed "America" in concert to my knowledge.
The band was joined by acts all across genres, from the Manhattan Transfer to Led Zeppelin, from the Blues Brothers to Yes, from Debbie Gibson to Crosby, Stills & Nash. The total performance time was just over thirteen hours long. 3 left early, however, as they had another performance that night! Why they failed to cancel this appearance, yet cancelled a date on the day before, isn't clear to me at this time.
As I alluded to above, this short set was recorded both on audio and video. It is thus the only known film footage of 3 in concert–from a performance where they weren't even going by their own name!
I talk more about the venue, the famed Madison Square Garden, here.
Thank you so much for reading. If you enjoyed this post, please consider donating on my ko-fi page or becoming a patron on my patreon! I'm currently raising funds in order to upgrade my wordpress plan to a premium one, which would allow me to improve my readers' experience in large ways and small. Thank you for your help!