3 performed on this day in 1988 at Boulder's Coast in Boulder, Colorado.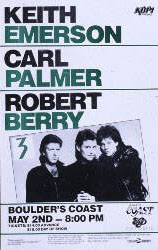 3 were by now under three weeks away from the end of their sole North American tour. In this short time, they managed to cover a lot of ground; Boulder was the westernmost stop they had yet undertaken. Soon, they would reach the West Coast of the United States, a long way from where they began in upstate New York.
There is no known recording of this particular concert.
Thank you so much for reading. If you appreciate what I do, consider donating on my ko-fi page or becoming a patron on my patreon! I'm planning on upgrading my wordpress plan to a premium one, which would allow me to improve my readers' experience. Since I'm fairly broke, I would love it if the costs were offset a bit. Thank you!