Rainbow performed on this day in 1981 at the Nassau Veterans Memorial Coliseum in Uniondale, New York.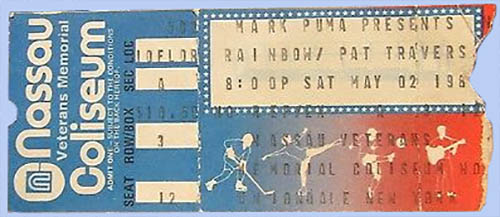 Rainbow were at this point in the last two weeks of touring North America on their Difficult to Cure Tour, which would visit three continents before ending the following September. This tour marked a turning point in Rainbow's history as the band, during which they shifted genres from hard rock to a poppier, AOR sound.
During this tour, the group toured with Canadian guitarist Pat Travers, who was touring in support of his album Radio Active. Material for this particular concert named the tour "Active Cure", an amusing portmanteau which I have yet to see anywhere else.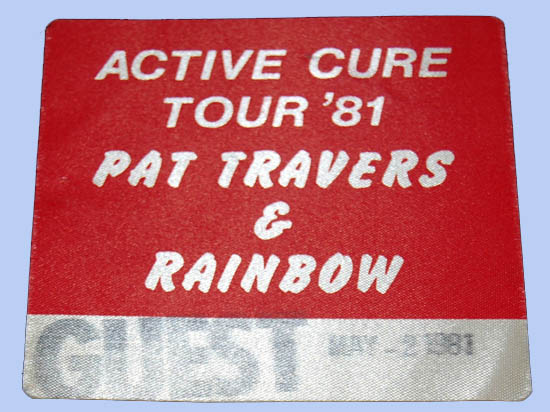 The two headlining acts were also joined by a succession of support acts. For this particular concert, the two were joined by Riot, which doesn't appear to have joined them anywhere else.
This concert was recorded; one track, "Can't Happen Here", was officially released by the band on the compilation Finyl Vinyl. The rest has not been, and is in circulation online.
The Venue
The band performed at the Nassau Veterans Memorial Coliseum, which had first opened on February 11, 1972 with a basketball game. The arena was built on land previously occupied by a US Air Force Base, Mitchel Field. The name was a nod to the land's history.
In the 1970s, the arena had a maximum capacity of 15,000, with a reduced capacity for some events. By the early 80s, this had been bumped up to 18,000, though I have been unable to determine whether this was before or after Rainbow's concert. The arena served several sports teams as home arena, including the New York Nets (basketball) and the New York Islanders (hockey). It was also home to a yearly circus.
In terms of musical events, this Coliseum has seen a great many legends on its stage, including three sold-out shows by Elvis Presley in 1973. Emerson, Lake & Palmer played two dates here in 1978; the first of the two was eventually released as a live album. Here's a list of some of the other concerts which have occurred at the venue, and here's a list of some of the most famous events among those according to the local Long Island Press.
After a closure in early 2015 for renovations, it was reopened in early 2017, its capacity once more reduced to 14,500 for concerts. Billy Joel was the last performer prior to its closure and the first one to return to its stage after the reopening.
Its website can be found here.
Venue Sources
Edit on 2020-09-20: Optimized for new site.