3 performed on this day in 1988 at City Limits in Fort Lauderdale, Florida.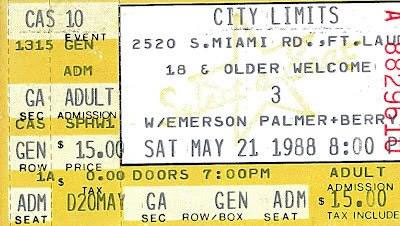 This was the final date of the sole tour undertaken by Keith Emerson, Robert Berry, and Carl Palmer together. It came at an end of nearly two months on the road, traveling by bus in a large loop of North America starting in upstate New York. In this time, they had played 37 concerts, in venues ranging from Madison Square Garden to a water park. Predominantly, they had performed at clubs or small theaters, giving audiences a chance at an intimate experience.
3 had begun their tour augmented by Paul Keller on guitars and Jennifer Steele and Debra Parks on backing vocals. Both Steele and Parks were let go during the tour, however.
This concert marked the last time 3 performed together. Afterwards, the group quietly went their separate ways. Keith Emerson returned to the soundtrack work which had dominated his career in the 1980s with work on The Church. He also released a Christmas album, recorded (but did not release) the album Changing States, and briefly toured with The Best. He also attempted to form a band called Aliens of Extraordinary Ability, though they never released anything.
Carl Palmer went back to Asia, his predominant post-ELP project. He and Emerson would reunite with Greg Lake in the early 90s and remain together until 1998. While the group borrowed a single song from the other noted ELP spinoff band, Emerson, Lake & Powell, for some performances, none of 3's music made it back to the reformed ELP.
Robert Berry went on to play in multiple bands, including the December People, as well as release solo work. One such solo album, Pilgrimage to a Point, even included work intended for a second album by 3 which never materialized. Even beyond that, however, he has remained an active member of the ELP extended family, having played on an ELP tribute album, Encores, Legends & Paradox.
In 2015, Emerson and Berry began preparing for a followup to To the Power of Three together, plans tragically cut short by Emerson's untimely death. Berry finished the album alone, releasing it as 3.2: The Rules Have Changed; it received a largely positive reaction. He embarked on a tour to support the album in the fall of 2019.
This concert is known to have been recorded. I've never seen it online, and have heard statements that it's in a private collection.
At the end of this project, I want to express my gratitude to the members of the 3 (Emerson, Berry, Palmer) Facebook group at the end of this first phase of my coverage of the band. Their enthusiasm for the band was quite an inspiration to me. I have myself discovered a new appreciation for 3's music and their history as a result. I look forward to continuing to update these recollections with more information, as well as writing about the band in other situations!
I could find relatively little about City Limits, beyond the fact that it had formerly been a country-themed club called Club Dallas. City Limits saw it embracing rock 'n roll instead of country; some of the acts which played there can be found here. At some point after this concert, the venue transitioned back into a country venue, renamed the Desperado. I have been unable to find much other information.
Thank you so much for reading. If you enjoyed this post, please consider donating on my ko-fi page or becoming a patron on my patreon! I'm currently raising funds in order to upgrade my wordpress plan to a premium one, which would allow me to improve my readers' experience in large ways and small. Thank you for your help!
Venue Sources