Emerson, Lake & Palmer performed on this day in 1977 at the Riverfront Coliseum in Cincinnati, Ohio.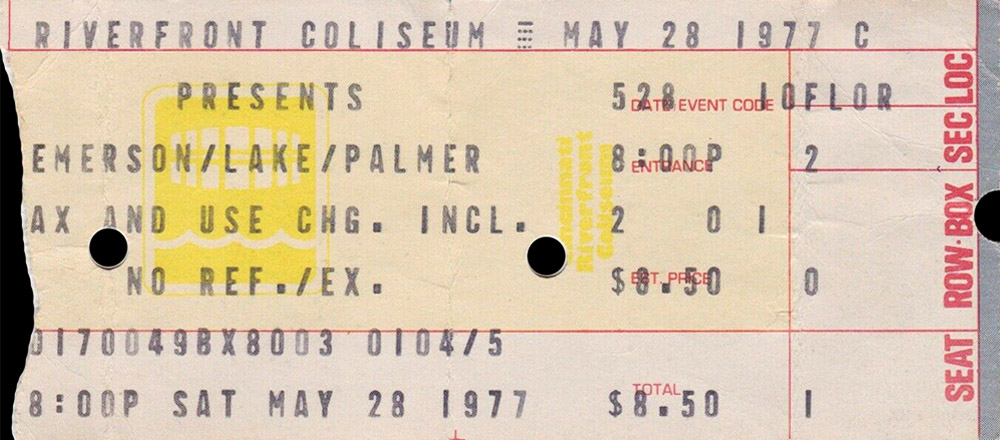 As you can see on the ticket, this concert was originally scheduled for May 28th. However, due to a problem with the stage set, the concert was postponed. Documented proof that it occurred on the 29th can be found in a newspaper clipping advertising what I believe is the earnings from ticket sales for this and several other concerts occurring at the time.
Just looking at this, one would think that ELP was in a financially good place at the beginning of their Works Tour. They are the second-highest earning single act of any on the list and third-highest overall. They're also the only act to make the list twice that aren't on a multi-band tour, for this show and for a show that had happened three days earlier. In short, clearly they were selling quite a lot of tickets. However, they were also running an incredibly expensive tour, as they were traveling with an orchestra and a massive retinue. This inevitably meant that the tour would result in financial losses, no matter how comparatively successful they seemed.
There is no known recording of this particular concert.
I talk more about the venue at which the group performed, the Riverfront Coliseum, here.
Thank you so much for reading. If you enjoyed this post, please consider donating on my ko-fi page or becoming a patron on my patreon! I'm currently raising funds in order to upgrade my wordpress plan to a premium one, which would allow me to improve my readers' experience in large ways and small. Thank you for your help!