Rainbow performed on this day in 1981 at the Palace Theater in Waterbury, Connecticut.

Rainbow were at this time approaching the end of their North American leg of the Difficult to Cure Tour. They had first come to the continent in February, when they had played four club dates before joining up with Canadian guitarist Pat Travers in March.
This tour marked a departure from their previous genre, switching from hard rock to a poppier, more chart-friendly sound. Guitarist Ritchie Blackmore reportedly wanted greater success on the American charts, something which he finally achieved with the release of Difficult to Cure.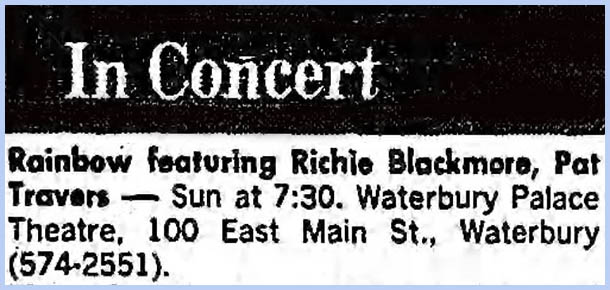 This concert is known to have been recorded, and is in circulation online.
Thank you so much for reading. If you enjoyed this post, please consider donating on my ko-fi page or becoming a patron on my patreon! I'm currently raising funds in order to upgrade my wordpress plan to a premium one, which would allow me to improve my readers' experience in large ways and small. Thank you for your help!