Emerson, Lake & Palmer performed on this day in 1977 at Cobo Arena in Detroit, Michigan.
ELP's Works Tour was officially underway, with this being the sixth date on the tour. They were touring in support of their most recently-released album, Works, Volume 1, which had already been certified gold by the RIAA (500,000 copies sold). The band was traveling with an orchestra and a choir, giving the listening public a truly unique experience even for an ELP tour.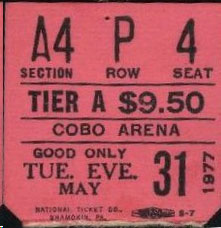 As well as performing music from the new album, ELP included numbers from every preceding album except Tarkus. Each side of the four-sided album, the first three of which featured one member of the group plus orchestra (or in Carl Palmer's case, a member of the Eagles) and the fourth which had the trio come together again, was represented in concert. Both of the works from the last side, "Fanfare for the Common Man" and "Pirates", showed up.
This is the first concert from this tour to have been recorded. It is in circulation online.
Thank you so much for reading. If you enjoyed this post, please consider donating on my ko-fi page or becoming a patron on my patreon! I'm currently raising funds in order to upgrade my wordpress plan to a premium one, which would allow me to improve my readers' experience in large ways and small. Thank you for your help!