Emerson, Lake & Palmer performed on this day in 1973 at the Velodromo Vigorelli in Milan, Italy.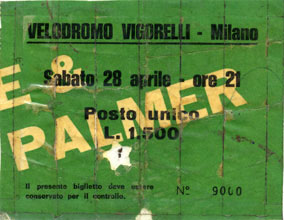 With this date, ELP brought their Get Me A Ladder Tour to a triumphant finish. During this tour, undertaken prior to the recording of their upcoming Brain Salad Surgery album, the band visited nine countries and performed 22 dates. Despite occasional bad luck, including bad weather and a case of laryngitis for singer Greg Lake, the quality of the concerts they performed remained consistent with the high standards ELP set onstage.
As one can see from the ticket I included above, this concert was postponed six days due to Lake's laryngitis. His autobiography also makes reference to the concert having already been postponed prior to the postponement due to his illness, but I have been unable to find further information on what he was referencing.
Six months later, the band got back on the road with their next major tour, the Brain Salad Surgery tour. However, they would not return to Milan, or indeed Italy, for nineteen years.
This concert has been recorded, with portions officially released on the 2017 Fanfare box set. The rest is in circulation online.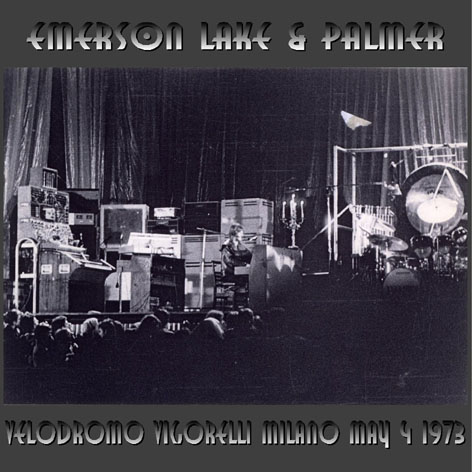 The Venue
This was the only concert ELP ever played at the Velodromo Vigorelli, an arena primarily used for cycling events. It was originally built in October 1935 and renamed the Velodromo Maspes-Vigorelli in 2001.
It was designed in the Futurist style by Clemens Shuermann, a Hungarian architect, but this building was destroyed by firebombs in 1943. It was later rebuilt and remained active until 1985, when it was damaged by a crashed canopy. It reopened once again, though as the years passed it was used more for American football than cycling.
In terms of concert history, one of the most famous events which occurred here was a 1971 concert by Led Zeppelin, during which a massive riot ensued that ended up involving riot troops and tear gas. Here are some of the other concerts which have taken place at the venue.
It was slated for redevelopment early in the 2010s, but I have been unable to find any information on whether that went forward.
Thank you so much for reading. If you enjoyed this post, please consider donating on my ko-fi page or becoming a patron on my patreon. I appreciate your help!
Post Sources
Venue Sources
Edit on 2020-09-20: Optimized for new site.