3 performed on this day in 1988 at the Cabaret in San Jose, California.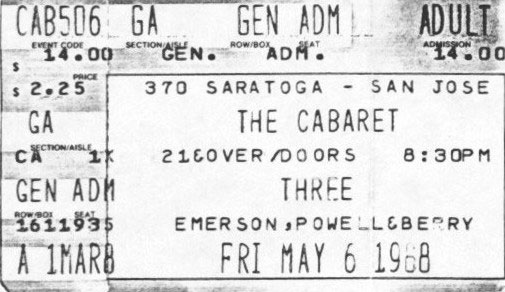 Amusingly, this ticket managed to create a crossover between 3 (composed of Keith Emerson, Robert Berry and Carl Palmer) and the other major ELP spinoff group, Emerson, Lake & Powell (composed of Keith Emerson, Greg Lake and Cozy Powell). However, the two bands performed in a wildly different style and in very different venues. ELPowell played a great deal of music from ELP mixed in with their own, while 3 played mostly their own original music mixed in with a few instrumental ELP numbers. The former group also played mostly in large arenas and at state fairs, while 3 performed in smaller theaters and clubs. Some, such as this one, were age-restricted.
This concert was recorded from a radio broadcast. It is in circulation online. Edward Macan used a recording of it as a representative sample of 3's stage work.
Thank you so much for reading. If you enjoyed this post, please consider donating on my ko-fi page or becoming a patron on my patreon! I'm currently raising funds in order to upgrade my wordpress plan to a premium one, which would allow me to improve my readers' experience in large ways and small. Thank you for your help!
Post Sources
Macan, Edward. Endless Enigma: A Musical Biography of Emerson, Lake and Palmer. p 512