3 performed on this day in 1988 at the Palace in Los Angeles, California.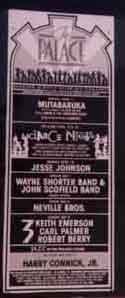 3 continued a run of dates in singer Robert Berry's home state of California with this performance. Thus far, they had played in San Jose and San Francisco, both further north than the concert in LA.
There is no known recording of this particular concert.
Thank you so much for reading. If you enjoyed this post, please consider donating on my ko-fi page or becoming a patron on my patreon! I'm currently raising funds in order to upgrade my wordpress plan to a premium one, which would allow me to improve my readers' experience in large ways and small. Thank you for your help!