I remember thinking…how glad I was my father made me practise when I was young.

Don Airey regarding his performances at the Budokan. Retrieved from here.
Rainbow performed on this day in 1980 at the Nippon Budokan in Tokyo, Japan.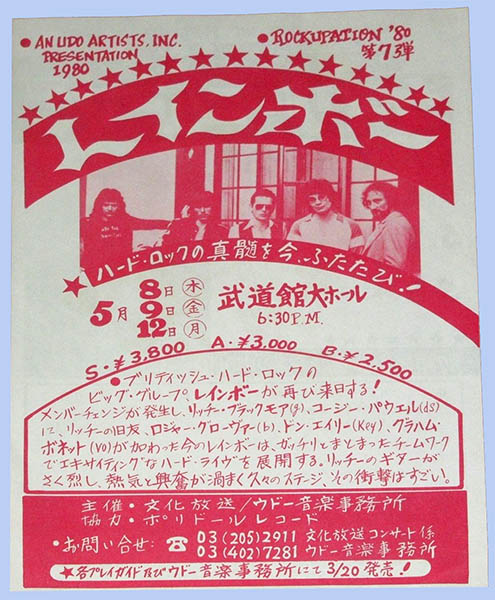 Rainbow's Down To Earth Tour had finally reached Japan, with this concert opening a six-concert leg in the country. Rainbow had always enjoyed a warm welcome from Japanese audiences, with this being no exception.
The Concert
To the best of my knowledge, this concert was the first time either keyboardist Don Airey or singer Graham Bonnet had performed in Japan with a rock band. Airey had traveled the world as a jazz musician on a cruise liner soon after finishing school and may have been to the country then, though he likely didn't play.
This performance saw only a few songs from the Dio era of Rainbow performed. Setlist.fm lists only four, two from the debut album and two from Long Live Rock 'n Roll, including the title track. During "Lost in Hollywood", a portion of "A Light in the Black" also showed up, ensuring Rising also got a bit of representation. The band also prefigured the album they would release next, Difficult to Cure, by playing an arrangement of "An De Freude" from Beethoven's Ninth Symphony which would eventually morph into the title track.
Even Deep Purple got a short shout-out when the group played the opening portion of "Lazy". This is fitting, given Purple would eventually become the home to three fifths of the Down to Earth lineup. Ritchie Blackmore and Roger Glover returned to the band in 1984, putting Rainbow on hiatus to do so. Don Airey would eventually join as well, first as a temporary member in 2001 on extremely short notice and then for good in 2002.
The rest of the songs were from Down To Earth, including a massively long medley built around "Lost in Hollywood"; this not only included the abovementioned "A Light in the Black" and "An De Freude", but also included instrumental solos by three members of the band.
As another note of historical importance, this concert featured what I believe was the genesis of a solo piece Don Airey would release a staggering 31 years after this concert. During his introductory solo to "Lost in Hollywood", Airey played a small snippet which would once day appear as part of his "Right Arm Overture" on All Out. This has to be some sort of record for the longest gap between genesis and eventual recording of a song!
On the recording front, we have an embarrassment of riches. There are at least two recordings of this brilliant concert, both of which are in circulation online. I gave my overall thoughts on the "Mr. Peach" recording here, with a longer review here. I rarely encourage my readers to actually look for bootlegs, though I reference their existence. In this case, I make an exception, and beg all of you to look up this show.
The Venue
Setlist.fm suggests Rainbow has performed at the Nippon Budokan a staggering total of fifteen times. This included three different concerts on this tour and three different concerts the next year. This venue, built for the 1964 Olympics to hold martial arts competitions, holds a special place in the hearts of rock 'n roll fans for its great many legendary concerts.
The planned capacity for the 2020 Summer Olympics, which would also have used the Budokan for Karate and Judo events, is 11,000. I would assume that concert capacities are similar.
The first rock concert held here was performed by the Beatles on June 30, 1966; before their concert, protesters surrounded the hall claiming that the institution of rock 'n roll would violate a building intended for martial arts. However, this and the four following concerts the Beatles held were overall successes.
A great many live albums were also recorded at the hall. The first notable one appears to have been portions of Deep Purple's Made in Japan, which took place here in the summer of 1972. Deep Purple had included both Roger Glover and Ritchie Blackmore at the time, who were also onstage with Rainbow for this particular concert. Many other recordings followed, including Cheap Trick's At Budokan.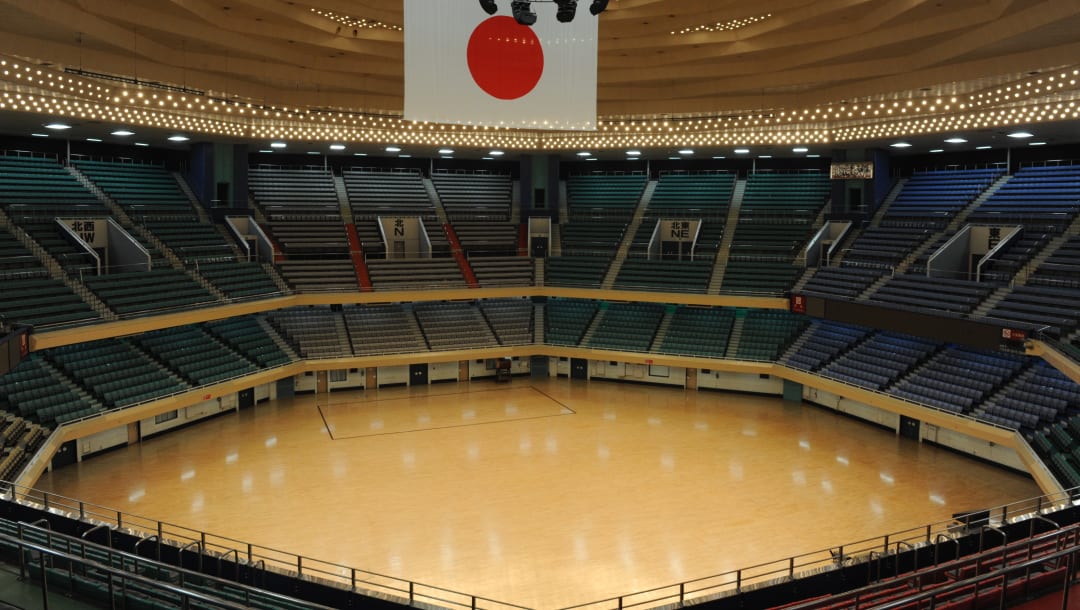 In terms of other noted musical events, Abba played their final official show to this date here just over a month before Rainbow took the stage. A famous reunion unrelated to Abba also occurred here on December 6, 1983. For the first time since Emerson, Lake & Palmer quietly split in 1978 in the aftermath of their Works Tour and their Love Beach album, two of the three members of the band took the stage together when Greg Lake joined Asia and his fellow ELP alum Carl Palmer. The concert was the first to be broadcast by satellite to MTV.
The venue is still holding both martial arts events and concerts; its website is available here.
Thank you so much for reading. If you enjoyed this post, please consider donating on my ko-fi page or becoming a patron on my patreon. I appreciate your help!
Post Sources:
Venue Sources:
Edit on 2020-08-26: Added information. Optimized for new site.
Edit on 2020-09-09: Added quote